Biography
---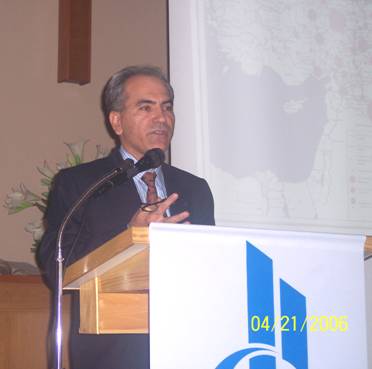 Edic Baghdasarian
Short Biography
Edic Baghdasarian is known as senior project management specialist, technical writer and author, historian, editor of magazines, translator, lecturer, university instructor and member of Board of Juries of BA, MA and PHD degrees at the universities.
For his Historical and cultural and scientific works and activities he is appreciated by Armenian communities, Armenian international press, scientific organizations and governments of Iran and Armenia. He is closely familiar with almost all Armenian and Iranian, some Tajik, Afghan, Italian, American, English, Russian, French and other cultural and scientific personalities, poets, writers, translators, publishers.
He has started his cultural works when he was studying in 6th grade in the Armenian Taban Elementary School.
Edicís first published work was a poem about Armenian strangers, which was printed in Piounic Armenian weekly (1979), right beside the poems of Iranian Armenian famous poet Galoust Khanents. Ed. Germanicís first book was titles History of Armenian People (translated from Armenian to Persian) in two volumes and was printed in Tehran in 1981 and was reprinted many times in later years. On the same book He used his pen name, Ed. Germanic for the first time.
Edic Germanic has been invited to lecture in many universities, cultural associations, scientific seminars such as: IAMM Ė Iranian Armenian National Association, Ararat Cultural Association, Armenian Women Association, Raffi Armenian Cultural Association, Some Schools of Tehran, Alzahra University of Tehran, Azad University of Tehran, Second and Third International Seminar on History of Mathematics at the University of Hormozgan, Armenian Writers Association of Iran, Armenian Literary Assembly of Tehran (He is one of its founders in 1986). Armenian Department of Neyshabour Iranological Institute ( He is Founder of this department in 1980), Armenian Women Assembly of Tehran, A branch of Armenian Supporting Commission of Artsakh at Tehran, Institute of History- National Academy of Sciences of Armenia, Writers Association of Armenia, Academy of Sciences of Tajikestan, Armenian Cultural Association of Ottawa, Armenian Association of Toronto, Canada, Venice, Italy, Lion, France, Madrid, London, GB, etc.
He has several interviews with many Magazines, Newspapers and Radios and TVís of Armenia, Iran, Artsakh, Canada and US. Some of his interviews are available in internet.
He has been inspirer, encourager and supporter of all who had literary talent and were willing to improve it and find their way to the beautiful world of culture, especially university students.
He is Founder and President of Armenian Research Center (Toronto, Canada), Founder and Editor-in-Chief of Louys Monthly and Apaga Periodical (Being Published in Tehran, Iran and on the Web).